Tamil Nadu is the cultural rich state of South India, the cuisine made in the area carries distinct taste and flavors. With globalization and cross migration of population it is available all across the globe. Authentic Tamil cuisine is served on a banana leaf but after modernization second option is stainless steel utensils. Still you can find food being served on banana leafs at some selected restaurants.
Tamil cuisine serves a wide range of vegetarian and non vegetarian delicacies to offer. Most of the local population is non vegetarian being a coastal state.
The best thing about Tamil cuisine is the use of fermentation technique in food preparation. It is easy on your stomach and enhances the strength of good bacteria in the gut.
To make a perfect Tamil recipe it is required to keep some essential ingredients which give the unique taste and flavors to the dish.
Rice – It is the staple food of Tamil Nadu and is found in three varieties;
Round grain rice
Short grain rice – used to make desserts named payasam, kesari, sweet pongal etc.
Long grain white rice – mostly used
Lentils – Second most widely used ingredient which is used in gravies (poriyals), chutneys, sambhar, soups, and some snacks (using the batter along with soaked rice).  The following forms of lentils are mostly used;
Split Black gram (urad dal)
Split Bengal gram (chana dal)
Split Pigeon pea (toor dal)
Coconut – Being a coastal region are coconut is found in abundance. It is found in almost every dish and used in every form;
Coconut oil is used in preparation of various dishes,
Coconut milk made by mixing grated coconut with water is used to make base of many curries,
Grated coconut is used for garnishing and of course sweet delicacies like coconut laddoo and coconut burfi are also made by mixing coconut and milk, sugar, cardamom powder.
Coconut chutney is very famous and is made by grated coconut, red chilies, chana dal this chutney is used as dip to be eaten with various snacks.
Fish and other aquatic animals – Being a coastal region fish is an integral part of the menu and is loved by majority of population. All varieties of sea fish, prawns, crabs, meat and chicken is used in many dishes.
Curd – Curd and buttermilk are used as most of the delicacies; it is used for marinating and medium for batters. It is also used as side dish both as sweetened and salted.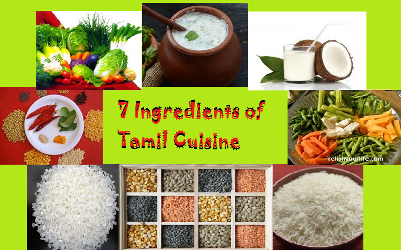 Vegetables – A variety of local vegetables like gourds, drumsticks, eggplants , carrots, cabbage, yam, potatoes, french beans, pumpkin ,onions or shallots, ginger, cauliflower are used to make dry vegetables or curries.
Spices – A variety of spices are used in this cuisine that includes curry leaves, turmeric, coriander, red chilies, asfoetida, and mustard seeds. Tamarind pulp is used to give a specific tangy flavor to curries; this is beneficial that it helps in improving digestion.
Save
Save
Save
Save
Save