Lucknow City is popularly known as the "City of Nawabs" because it was the capital of the 'Nawabs of Awadh' and owes an enriched cultural and artistic heritage. Although this city was ruled by the Mughalsand later by the British rule, it is now the capital city of Uttar Pradesh earlier known as the United Province. Some of the significant rulers of the city were- Muhammad Amin Saadat Khan, Abdul Mansur Khan Safdur Jung, Amjad Ali Shah and Wajid Ali Shah. Lucknow is the cradle of 'Tahzeeb' and a beautiful hub of art, literature, cuisine and travelogue. Here, we present top seven places which fall in the 'must visit' list while going to Lucknow…
Bara Imambara
'Bara Imam bara' is situated at the Gomati River banks, enclosed by beautiful gardens and greenery. It was constructed by the Nawab Asaf-ud-Daula in 1784, with a unique blend of Mughal monumental work that presents a remarkable view of Lucknow city from its terrace. Bara Imam bara is an Urdu word, where 'Bara' stands for big and 'Imam bara' stands for the shrine complex; it is popularly known for a mysterious and bewildering place 'Bhul Bhullaiya' or the Labyrinth that is embellished with the art, galleries, architecture, courtyards and holy mosques.
Chota Imam bara
Chota Imam bara is located near Bara Imambara, built by Muhammad Ali Shah in 1838and popularly identified as the Imam bara of Husainabad. The artisan ship of the marble and stone, splendid gold-plated, glass work, prominent interiors decorated with gold edge mirrors and silver throne brand sit as one of most adorable place to visit Lucknow. Chota Imam bara is also blessed with wonderful towers fenced with bedecked gardens.
Lucknow Residency
Lucknow Residency was basically constructed for the residence of British Resident General in the middle of 1700-1800 AD in Lucknow during the rule of Nawab Saadat Ali Khan II. In Lucknow Residency, you will find a museum depicting the picturesque art and lifestyle of Nawabs as well as British rulers with the photographs of past eras. British Residency is an epitome of National Memorial and symbolizes the first Independence Revolt of 1857 known as the Seige of Lucknow.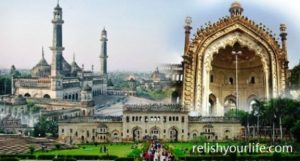 Rumi Darwaza
Rumi Darwaza was built by Nawab Asaf-Ud-dowlah in 1784 and is located next to to Bara Imam bara presenting a magnificent work of Awadh architecture. It is generally a tall gate also known as 'Turkish Gate', built by the Nawab Asaf-ud-daula during 1784, beautifully engraved with designs on stones and is situated very close to Chowk which is a shopping hub of Lucknowites. Rumi Darwaza is one of the landmarks of the city, hence used as logo which symbolizes the entrance to the old city of Lucknow. The name 'Rumi Darwaza' was kept for this gateway because it was popularly believed that workers from 'Rome' were invited for the construction of this gate.
Lucknow Zoo
The Lucknow Zoo was built in 1921 and is also known as The Prince of Wales Zoological Park. The zoo comprises of several species of birds, animals and reptiles, endangered species like the White Tiger, Indian Wolf and Hog Deer. Another important attraction of the zoo is the State Museum of Lucknow situated in its grounds and the toy train.
Hazratganj
Hazratganj is one of the best shopping avenues of the city where you can find a wide range of shopaholics' stuff including clothing including 'Chikankari' work which is the eye candy of every Lucknowite-, jewelry, handicrafts and handloom, electronic items, books, shopping malls, restaurants, local food and snacks, movie theaters and so on. We popularly say a term "Ganjing" for the shopping spree at Hazratganj. Hazratganj was taken into shape in 1810, by the efforts of Nawab Saadat Ali Khan and has been rejuvenated in 2011 for a novel and fresh look of the city.
 Chowk Market
Chowk is the oldest 'bazaar' set in the 'purana' Lucknow famously known for the'Chikankari' work embellished with embroidery. Chowk market is the finest abode for tasting the authentic Awadhi cuisines like "Galauti kebabs", "Shami Kebabs", "Kabab Paranthas", "Nalli Nihari", "Biryani" and other delicacies.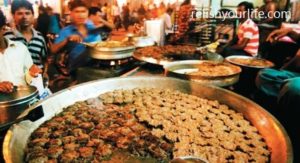 At last but not the least, while you are in Lucknow, be first to say "Pehle Aap"! After all it is all about the "Tehzeeb" and relishing the fine moments spent over here.