The Awadhi cuisine is an innate cuisine of "Nawabs". It relishes upon both vegetarian and non-vegetarian dishes. It is inclined towards the "Mughalai" delicacies bearing a striking similarity among Central Asian cuisines.
The "dum style" of cooking, a signature of cooking over slow flame is very popular characteristics of Awadhi cuisine. On the Awadhi plate you can find a variety of dishes from kebabs, kormas, biryanis, zarda, sheermal, roomali rotis and warqi parathas. The Awadhi cuisine is embellished with a variety of core ingredients and is cooked with distinct flavors of spices. Let's explore the flavors…
Delicious KEBABS –
Kebabs are being served as starters in Awadhi cuisine and one can eat a distinct variety which includes kakori kebabs, galawati kebabs, shami kebabs and seekh kebabs cooked on "chulas".  It is served with hot "parathas".
"Tunde ke Kabab" in Chowk market is world famous for its unique secret recipe which comprise 160 spices.
Lip smacking CURRIES –
"Mughalai" curries are unique combinations of exotic  spices with lots of dry fruits like cashew, almond, pistachio blended in cream and butter. One can find Korma on the Awadhi menu among both vegetarian and non-vegetarian dishes. "Do Pyaja" curries using double quantities of onion gives a unique sweet taste to it.
Some of the exotic spices ingredients used for making curries include raw papaya, kewra water, cinnamon stick, cardamoms, poppy seeds, cloves, bay leaf, etc; Apart from regular spices to give it a distinct Awadhi flavor.
Aromatic KEEMA –
Minced meat cooked with spices and vegetables makes awesome "keema" and is served with "paratha or Roti" to make a perfect meal.
Soothing BIRYANI / PULLAO or TEHRI –
The "Dum biryani" or "pullao" is made by cooking rice in ghee with flavored spices, and other ingredients.  Cooking is done in a covered pot sealed with floor dough over low heat.
In Awadhi Cuisine rice is cooked in three ways
BIRYANI – Rice is half boiled in spiced water separately and then layered with veg or non veg ingredients and rest of cooking is done on low heat in sealed handi – giving it a dum.
TEHRI – Rice and all the ingredients with grounded spices using turmeric powder are cooked together, it an anytime quick rice preparation.
PULLAO – Rice and all ingredients are cooked together using whole spices (in some form of PULLAO the spices are tied in a cloth piece (potli) and cooked with rice so that it can be removed after cooking). It is a very aromatic preparation.
It will be fun to know that in Awadhi cuisine humble KICHIDI is known as "DAL PULLAO" giving a grace and royal touch to its name.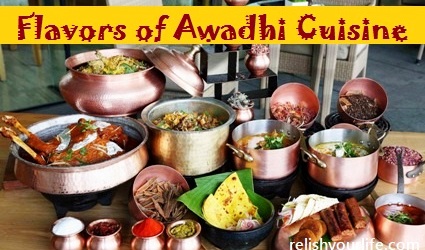 Get along with basket of BREAD –
Wheat being the staple crop so a lot of varieties of flat and baked bread are found in Awadhi Cuisine.  Familiar names of "rotis", "puris", and "parathas"- both stuffed and plain, "roomali roti", "naan", "sheermal", "tandoori roti", "lachha paratha", "warqi paratha", "nahari kulchas" are served with vegetarian or non-vegetarian curries. In Awadhi cuisine, flat breads are cooked on "tawa", and baked breads are cooked in "tandoor".
The Nawabi SWEETNESS –
No Awadhi cuisine is complete without a dessert.  Royalness of Nawabs can be found in sweets made here an endless list of "halwas" made with grounded cereals and profuse use of Ghee and dry fruits. Rice or Vermicelli "Kheer" is made unique by distinct flavors of saffron/cardamom. One can experience sweet saffron rice with beautiful aroma known as "Zarda" it is the specialty of "Nawabi" Kitchen. There are a lot of milk based sweets which originated from here and went to places.
Tangy CHAATS –
One of the famous street foods is "Aloo Tikki" made by a mixture of boiled and mashed potato, chick peas seasoned with different spices. With ages it has evolved and there is a lot of variations available "gol gappa", "dahi puri", "dahi vada" and "papri chaat" are the few names.
So the next time when you visit LUCKNOW the city of Nawabs, do ensure to relish your taste buds. With extended globalization you can find a good restaurant in your vicinity serving authentic Awadhi Cuisine; so take some time out and enjoy the delicacies and feel like a NAWAB.
Save
Save
Save
Save