Aha! Its festivities all around and you all deserve a dash of sweetness. Relish this festive season with some unique homemade sweets. A healthy and hygienic option must be on top our mind. The thought of handling cumbersome ingredients like khoya or mawa must be baffling you and your mind must be looking for an easy alternates. Bingo!!! Here we present an ultimate gulab jamun recipe made by Bread.
Yes, you read it right it's Bread.
The best part of this recipe is that all the ingredients are easily available at home and it can be made in a short time. This recipe will taste no less than instant mixtures available in market. It is a must try…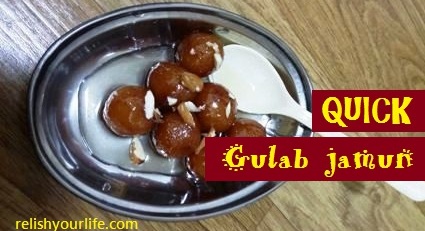 Ingredients:
For Gulab jamun balls
5 – 6 slices of bread (with its brown edges removed)
250 ml milk
Ghee for frying
For Sugar Syrup
500 g sugar
½ teaspoonful of cardamom powder
500 ml water
For Garnishing
Almond flakes or sliced pistachio
Method-
Take 5 – 6 slices of white bread and remove the brown edges with a sharp knife.
Take 250 ml of milk in a bowl and dip bread slices in it to make soft and rough dough.
Now, make equal sized round balls with your hands gently and keep aside.
Take ghee in a deep frying pan, heat over medium flame.
Now fry the bread balls till golden brown and take them out on a blotting paper/tissue.
On the side boil 500 ml water on high flame, add equal amount of sugar to make sugar syrup. Check the consistency of the sugar syrup with your fingers.
Add ½ teaspoonful of green cardamom powder to the sugar syrup.
Finally, dip the bread balls into the sugar syrup, while it is hot.
Allow the syrup to get imbibed or fully soaked into the balls.
Use almond flakes or sliced pistachio for garnishing the Bread Gulab jamun and serve hot.
Make a lasting impact on your family and guests and share their reaction on our facebook or Google+ page…have a happy times ahead.
Save
Save
Save
Save