When it comes to songs they are an integral part of our life, there are many emotions which gets synchronized with the music and lyrics. Here is a list of 5 soulful songs of Bollywood which are timeless classics…just click on the song and watch the melodies.
1. मन रे तु काहे न धीर धरे… (Man re tu kaahe na dheer dhare)
Movie – Chitralekha (चित्रलेखा)
(Singer- Mohd.Rafi; Lyrics-Saahir Ludhiyanvi; Music Director-Roshan)
This is one of the most rendering & heart touching song, which will enlighten your inner self. Whenever, you are entrapped in the complexities of life, just listen this song to sail through the tough times.
2. जाने वो कैसे लोग थे ज़िनके प्यार को प्यार मिला… (Jaane wo kaise log the jinke pyaar ko pyaar mila)
Movie – Pyaasa (प्यासा)
(Singers-Hemant Kumar; Lyrics-Sahir Ludhianvi; Music Director- S D Burman)
One of the melodies created by SD Burman which melts in the ear and goes straight to heart, it depicts the pain with aplomb which is resonated in the listener's heart, simply the best love lost songs!
3. मैं जिंदगी का साथ निभाता चला गया… (Main jindagi ka saath nibhata chala gaya)
Movie – Hum Dono (हम दोनो)
(Singers-Mohd.Rafi; Lyrics- Sahir Ludhianvi; Music Director-Jaidev)
A song full of effervescence and inspiring life! The song is with a forward looking attitude and a message to accept the life as it comes.
4. आओगे जब तुम साजना… (Aoge jab tum o saajna)
Movie – Jab We Met (जब वी मेट)
(Singers-Ustad Rashid Khan; Lyrics-Irshad Kamil; Music Director-Pritam Chakraborty and Sandesh Shandilya)
A romantic song in search of someone closest to your heart, the flute prelude takes you to a different zone every time you listen to it. It depicts the pain you undergo when you see your loved one in pain and feel the strong urge to take him out of the situation.
5. ये मोह मोह के धागे… (Yeh Moh moh ke dhaage)
Movie – Dum Laga Ke Haisa (दम लगा के हैशा)
(Singers-Papon; Lyrics-Varun Grover; Music Director-Anu Malik)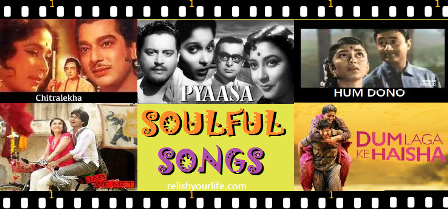 One of the most emotional melodies of modern times, which touches the listener's soul. It depicts the fight between love and acceptability complimented with the beautiful lyrics and equally remnant music.
So make a playlist of the songs and listen them in solitude to take you in a different zone. Keep watching the space for more such touching time less collections to relish your ears and soul.
Save
Save
Save