Italian dishes are loved by one and all, especially children of all ages. Here, we present to you a simple vegetarian Spaghetti dish that will be loved by your kids and can be served as an evening snack or a birthday party dish equally. Although, a variety of Italian dishes are offered at several outlets or some people claim to have proficiency over cooking authentic Italian dishes, still, for a change, try this Indian version some day and feel the difference!
Ingredients:
Spaghetti preparation
500 g spaghetti
5 cups of water
1-2 teaspoon salt
1-2 teaspoonful of lemon juice
1-2 tablespoon vegetable oil
Vegetable addition
1 finely chopped capsicum
1 finely chopped shallot/ green onion
1 finely chopped carrot
1 finely chopped mushroom
1 cup of finely chopped cabbage
250 g diced cottage cheese (paneer)
 Seasoning
½ Teaspoon Red Chili flakes
½ Teaspoon black pepper
½ Teaspoon salt
2-3 tablespoon tomato sauce
Grated cheese according to your taste
1 Teaspoonful of finely chopped fresh coriander leaves
 Method-
Take a large pan, add adequate water, salt and lemon juice for boiling along with the spaghetti sticks. Cook the spaghetti pasta in boiling water till until done, drain well, toss with 2 tablespoon of vegetable oil and keep aside.
Now, take a frying pan and heat on medium flame, add vegetable oil of your choice and cook chopped capsicum, shallot/ green onion, carrot, mushroom, cabbage and paneer until slightly crisp. Keep aside all the vegetables on a paper towel so that excess oil is drained off.
Again, add 1 tablespoon vegetable oil and heat in the reused frying pan. Add chopped onion into the pan and cook it over medium heat until it becomes translucent. Finally, add cooked and drained out spaghetti into the pan and toss it with the onions using tongs.
Add tomato sauce and garnish with 1/2 cup of cheese of your choice and give a gentle mix. Add salt, red chili flakes and pepper according to your taste.
Serve immediately with chopped coriander leaves on top and some extra cheese while dining at your table!!!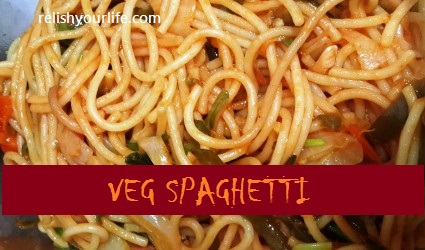 Wow you are done with an Indian version of an international dish; there are moments to relish upon with your family so make them join of the dining table with the exotic veg spaghetti on the table.
Subscribe to our feeds, like facebook or Google+ page to stay updated…