,The biggest challenge of parents now a day is to be watchful what the kid is watching on TV show. Most of the stuff being aired is not contributing in any kind of character building or skill enhancements. This makes it important for parent is to choose the right shows and encourage kids to watch. It can contribute with a good amount of positive thoughts in them. Here is a section of 5 TV shows best suited for kids under five.
Peppa Pig
Peppa Pig is a British animated TV show series that keep an eye on the adventures of the anthropomorphic animal 'pig' along with her family members and friends. There is a mummy pig, daddy pig, little brother George who is always scared with 'dinosaurs' toys' and a grand- pa pig who is always ready to help everybody at home. You can find that each of the Peppa's friends is a different kind of animal like rabbits, dogs, sheep with a cheerful and jolly nature, enjoying the muddy puddles and other games, not to forget there are some pretend friends too. This series attract the little ones to understand the family values and how to socialize with friends and relatives.
Go, Diego, GO!
It is an American animated TV show series for children that is derivative of another series "Dora the Explorer" based on the adventures of Dora's 8 year old cousin Diego mostly embroiled in rescuing animals and protecting their environment. The characters that revolve around the series are- an 8 yrs. old boy Diego who speaks English and Spanish as well as the language of animals and rescues those that are in trouble; Alicia Marquez, the sister of Diego who helps him in any campaign through her laptop to discover interesting facts about animals; Baby Jaguar which is a jaguar friend of Diego, 'Click' is a camera of Diego that helps Diego in finding animals in trouble; Rescue Pack that is an essential orange backpack of Diego needs; Bobo Brothers that are two mischievous spider monkeys; Tree Frogs, Linda which is the llama; Dora is Diego's cousin who helps him with rescue operations; Boots is a monkey and Dora's best friend.
Dora the Explorer
Dora the Explorer is a popular American animated and educational TV show series for kids and one of the longest-running shows on the channel Nick Junior. The series revolves around a little girl Dora, who speaks English and Spanish both, with an adoration of boarding on missions related to any activity that she wants to participate or a journey she wants to undertake, escorted by her purple 'backpack' and 'Boots'- an anthropomorphic monkey companion always loving a pair of red boots. One very interesting expeditions are the one with an anthropomorphic thief fox known as Swiper who steals the belongings of others. Some of the Dora's pet dialogues are- "Swiper no swiping" and "We did it!" song with Boots after accomplishment of her goals.

Team Umi Zoomi
Again, "Team Umizoomi" is a computer animated educational as well as musical series for children which is focused to improve their mathematical skills such as counting, shapes, patterns, measurements, sequences and comparisons. The crew of team Umi zoomi comprises of mini superheroes named as 'Milli' and 'Geo', a robot named Bot and a child viewer of the show who is team Umi zoomi' s 'Umi-friend'. Milli, Geo and Bot always boost up their Umi-friend to enhance their "Mighty Math Powers!" through various activities that mostly occurs in the 'Umi City'. After completing each task, the team Umi zoomi sings a song "Crazy Shake…"or the "Umi Shake" and dances on its tunes. The series also encourages to ask and answer the general "how" and "when" of the daily lives which increase the learning capabilities of children. One of the important assets of team Umi zoomi is their "UmiCar" which is little orange car that helps the team in competing their tasks or goals. There are also some negative characters known as "The Troublemakers "who against the Team Umi zoomi and pose troubles in the Umi City, but team Umi zoomi overcomes all the troubles with their skills.
Octonauts
It is an animated, fictional and scientific British television series for kids revolving round the marine world and their adventures. The animated series of Octonauts comprises of main characters called Captain Barnacles who is a bear, Lieutenant and Crypto zoologist Kwazii who is a cat; Medic Peso who is a Penguin, along with other five Octonauts. They come across unusual but real sea creature while exploring weird underwater flora and fauna. The Octonauts surveys a marine crew comprised of adventurous and anthropomorphic team of eight animals living in a submarine base known as the "Octopod", equipped with marine aquatic vehicles.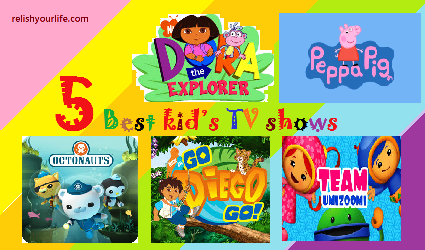 So Dear Parents, mark the names and make your kids watch them. Either on Television, if time suits or watch online and relish your parenting.