Monsoon season comes not only with beautiful aromas of earthen and yummy food but also with some mentally soothing and mood swinging music from different collection of Bollywood songs. Imagine – one fine rainy day, you are sitting on the balcony galloping some mouthwatering snacks and tea and the background is lit up with the melodies of beautiful rain songs! Vow…sounds so exciting!
Click on the links to watch the songs…
Movie – Manzil (मंजिल)
(Singer- Lata Mangeshkar; Lyrics-Yogesh; Music Director-R D Burman)
This song brings back those golden memories, falling in love, skipping office under some pretext or the other, watching movies together, roaming around the city hand in hand. Shot on the street of Mumbai on Amitabh Bachhan and Mousami Chatterjee with the song playing in background in voice of melody queen. We miss such moments in the hustle and bustle of city these days but try it you will love getting drenched in rain. The male version sung by Kishore Kumar is equally good to listen.
Movie – 1942 A love story (1942 ए लव स्टोरी)
(Singers- Kavita Krishnamurty & Kumar Sanu; Lyrics-Jawed Akhtar; Music Director- R D Burman)
This was among the last songs composed by R D Burman. It is mesmerizing with really beautiful and poetic lyrics that uplift the mood whenever you listen to it. Golden voice of Kavita Krishnamurty and Kumar sanu with on screen ever green Anil Kapoor & Manisha is more than a delight. Just close your eyes and feel the song it assures you to take to you a different zone.
Movie – Chameli (चमेली)
(Singers- Sunidhi Chauhan; Lyrics- IrshadKamil; Music Director- SandeshSandilya)
The song "Bhaage re mann" has been shot on stunning Kareena Kapoor with a bold voice of Sunadhi. The song is a delight to listen in this rainy season and you will want to listen it again and again due to its magnetic and mesmerizing melody.
Movie – Fanna (फना)
(Singers- Sonu Nigam and Sunidhi Chauhan; Lyrics- Prasoon Joshi; Music Director- JatinLalit)
The song is very beautifully shot on with the most versatile face of Aamir Khan across Kajol. It speaks of the chemistry of relationships and feelings associated with it.  Voice of Sonu and Sunadhi creates the required magic around the lyrics.
Movie – Guru(गुरु)
(Singers- Shreya Ghoshal & Uday Mazumdar; Lyrics-Gulzar; Music Director-A R Rahman)
The song features Aishwarya Rai and depicts the breaking the barriers attitude. Well shot in a wet environment which is a delight to watch. Magical music of legendry A R Rehman and Shreya's voice will make you listen this over and over again.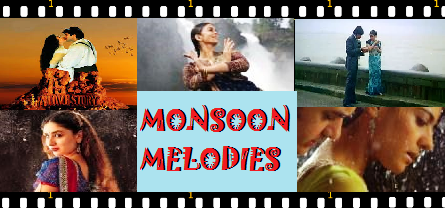 So keep some crispy shacks handy and sit out in the balcony with the songs and relish the moments …and enjoy monsoon…