'Vastu' is an ancient science scripted by our ancestors. The idea of 'vastu' application at our home and working area is to get the positives from the property where we live or work to make our life prosperous. It works on the universal directional matrix 'Dishayen' of directions and every element of our home or work place is positioned in its preferred location.
The directional matrix which is used in 'vastu' is divided in 8 sectors.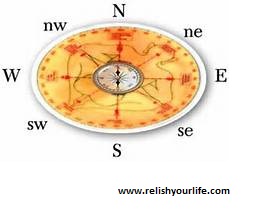 Home is the most priced investment of all of us we choose to do tasteful interiors, select expensive artifacts to decorate it and install gadgets of our choice. It all goes in vein if the 'Vastu' is not favorable and you didn't get good results from the piece of property. It is not only ownership 'Vastu' is applicable on all rented properties in your possession. With some key check points we can test and make the property synchronized with our prosperity. Here are five top 'vastu' tips which will bring positive energy, happiness and prosperity to our lives.
TIP 1
Look for Entrance:
Entrance is the facing of the house and the preference is in the order of 'NEWS' (North>East>West>South). The First choice is north facing house then it is East or north east facing.
West and South are not very favorable entrances so try to avoid them if possible.
Place a name plate this indicates the ownership of the house and works in favor of owners and also helps positivity and opportunities back to you
Make a holy swastika symbol or write OM on the sides of the main door as this the symbol of wealth and prosperity.
TIP 2
Where to have the Kitchen:
Kitchen being source of energy is preferred in south-east corner of the house
The second choice is north-west corner
Never face south direction while cooking.
Don't keep medicines in Kitchen as will bring negativity.
TIP 3
Location of Bedroom:
Master bedroom should be in south, west or south-west direction
Guest/kids/second bed room can be in north west direction.
Avoid placing TV/Computers or Looking glass in bed room, if it is necessary than keep it covered. As it leads to family disorders.
Place a happy couple or family pic of yourself on the wall.
TIP 4
Clutter free:
Cleanliness gives path to positivity, avoid storing unused things.
Work on a principle that if we don't use any thing for a year it is of no use for us.
Make sure that your house is well dusted; and everything is well placed.
TIP 5
Lighten up:
Make sure to you light up your house at night, even if you are not at home keep at least one light on to keep away any evil effects.
Every room should be well illuminated this works as a cleanser and shooing away the negative energy.
North East corner is the place for god so keep your temple here, never keep temples in bedroom.
In morning and evening time, lighting up a ghee diya helps in spreading the positivity in the house.